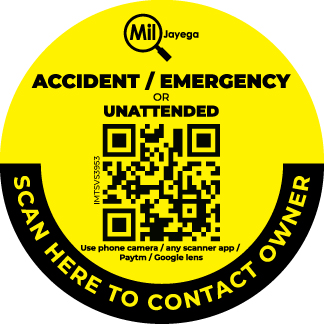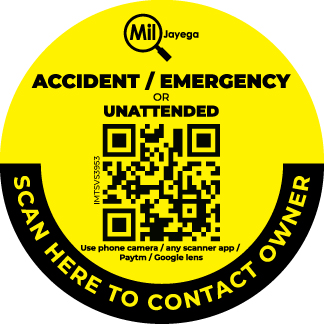 Exclusive
Smart Vehicle Sticker
#itsmy

things

- unsure To ENSURED

749
About the product
The Smart Vehicle Sticker ensures that you can be available for your precious vehicle, and your family can be available for you.
The fact that it works with most phone cameras, scanner apps (even Paytm), or Google lens and does not require any application download, makes it universally viable. It only takes seconds to lock the QR code in your ownership and it is ready to be stuck on to your vehicle.
The next time your vehicle is parked in someone's way or spot, you can be contacted by the individual via encrypted call, protecting your privacy.
Not just this, it can be a lifesaver in case of an accident or an emergency, by making way for immediate care and allowing rescuers to reach out to your emergency contact, when you cannot.
The product has been reviewed and recommended by the Transport Department, Rajasthan for unattended vehicles and accident scenarios.
With your Smart Vehicle Sticker become a smart, considerate, and prudent citizen.
Go from unsure To ENSURED!
The packaging has been carefully designed and each Smart Vehicle Sticker pack contains:
1 paper make 4.5 inches sticker in the English language for the front windshield
1 reflector material 4.5 inches sticker in local language for the rear windshield
Two stickers ensure that at least one stays, post an unfortunate impact
Big sticker size makes it easy to spot
Range of colours ensures that there's always a choice
Clear QR codes mean it's easy to scan
Two languages mean it's both, localised and standardised
Reflective material makes it easy for people to spot it in dark and keeps you safer on the road.
How to use:
Does not require any application download. Most phone cameras, scanner apps (like Paytm), or Google lens can be used to scan the QR code.
Each pack contains two stickers with the same QR code and can be used only under one ownership.
Please lock the QR code under your ownership before transferring the stickers to your vehicle.
The paper sticker in English is to be pasted from the inside on a front windshield. Clean the surface and ensure there are no air bubbles.
The reflector sticker in the local language is weatherproof and to be pasted on the rear windshield. Once again, apply to clean the surface and ensure there are no air bubbles.
The encrypted calls are licensed for a lifetime. Enjoy!
Safe and Secure Payments. Easy returns. 100% Authentic products.